Trolls and drama queens - or kings - are not welcome.
Most of the entries in this LJ are friends-only, though nothing is terribly private. I (generally) friend back, especially if your name rings a bell.
Current Mood:

refreshed

Current Music:

GNARLS BARKLEY : Crazy
An announcement: no, still not dead, but I've changed jobs since last time I posted, and life was a tad hectic. Plus, my daily life as it is isn't the stuff novels are made of (thank God!): get up, take métro, work, take métro, home. Gah.

I'm seriously sorry I have been absent so much, but I guess I was a bit burried under RL drama. So I post a bit on GAFF - though the place is slightly going to Hell in a handbasket. I had the stupid idea of taking a look into Gabbery the other day and was impressed... not. Actually, I think GAFF and 75% of GAFFers now make me wanky. I better stop going there soon, it has a really bad influence on me.

And that's about it. I haven't even really read any new crunchy fanfiction, by Jove!
But let's forget the boring stuff, I bring you pretty pictures of fairy castles with a dramatic past: evil kings, ambitious ministers, a Musketeer and the Man in the Iron Mask. ;)


*-*-*-*-*-*-*-*-*-*-*-*-*-*-*-*-*-*-*-*-*-*-*-*
Last Sunday, my significant other and I decided to get out of Paris for the day, and we chose to drive to Vaux-le-Vicomte.
Now, in my not so humble opinion, Vaux is one of the most magnificent castles in France. It's 1 hour drive from Paris, so if you ever visit here, make sure you go to Vaux. Personally, I prefer it to Versailles - it's graceful and airy, while Versailles has a cold magnificence probably more suited to royalty.
Current Mood:

full

Current Music:

HOLDEN : ce que je suis
Apparently these are the genuine numbers, so next time you have a decision to make: call that nice man.
"Bill, should I put sugar in my coffee or not? And brown or white? Help me, omg, for I am but a weak female!"
(found via
ljforchoice
)
Current Mood:

grumpy
A State of Mind
which was really very interesting.
The documentary was made by a British crew in 2003 in North Korea. It followed for about a year the lives of two girls living in Pyongyang who were gymnasts and were preparing for the mass games.
What are the
mass games
, you ask? Well, they're enormous performance involving up to 100,000 performers in Kim Il Sung Stadium in Pyongyang. There, huge teams of brightly costumed acrobats execute complex figures in precise unison as school children bearing colored flashcards create ever-shifting backdrop images of battles, slogans and the omnipresent faces of Kim Il Sung, who died in 1994, and his son Kim Jong Il, the current leader.
It's spectacular and chilling. It's the crushing of the individual in favor of the mass. These games represent millions of hours of training. The school children with the flashcards spend 2 hours a day training to be capable of opening the flashcard book at the right page. The gymnasts, like the two girls, train every afternoon after school, and up to 10 hours a day as the games draw near.
I recommend viewing the (beautiful)
trailer
of the documentary, where you get to see a bit of the Mass Games. But really, try to see the whole thing, it leaves a strong impression.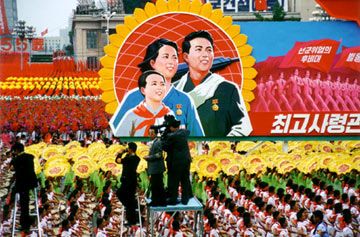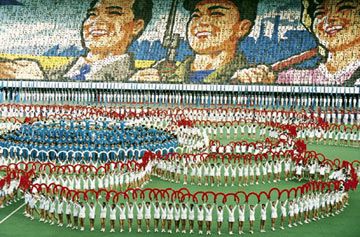 So, meet
Pak Hyon Sun
, age 14 (left) and
Kim Song Yon
, age 11 (right).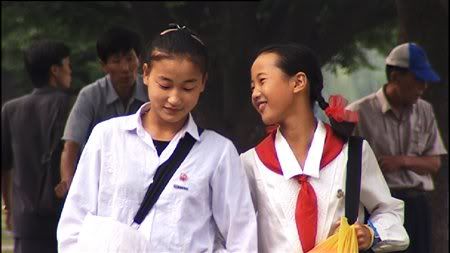 Both girls live in Pyongyang, the capital of North Korea. Pyongyang has a population of about 2.7 million. In North Korea, it is a great priviledge to live in Pyongyang, as life there is considerably more comfortable than in the countryside.
(
Click here if you want to learn more about some aspects of North Korean life, and boggle at the craziness of it all!
Collapse
)
So, yesterday evening when I was in the young and hip Hyewha district of Seoul, I saw a documentary called
Current Mood:

sleepy

Current Music:

The Electric Hellfire Club, Satan's Little Helpers
So, yesterday the theme was "XVIth century Italian sculpture". The man guiding us was really interesting, and he wrote his thesis on
S. Stefano Rotondo
, so I totally heart him.
I gathered some pics here to show the sculptures we saw. All of them are in the Michelangelo gallery (aile Denon, 1st floor). I took the pictures off the Louvre website, www.louvre.fr, because they have the advantage of being without the usual crowds of tourists. While the first one represents accurately the state of the gallery today, the others are a bit older and the sculptures have been placed elsewhere since.
People tend to gallop through the gallery, rushing on their way to go up the stairs to see the Mona Lisa. It's a shame so few people like sculpture as much as painting, as the two are so intimately linked. Our guide was adamant about us having a "dynamic" visit, turning around the sculpture, moving inch by inch. It was nice really taking the time to look closely at things.
So here's a pic of the Michelangelo gallery, where I stayed a great part of my Saturday morning.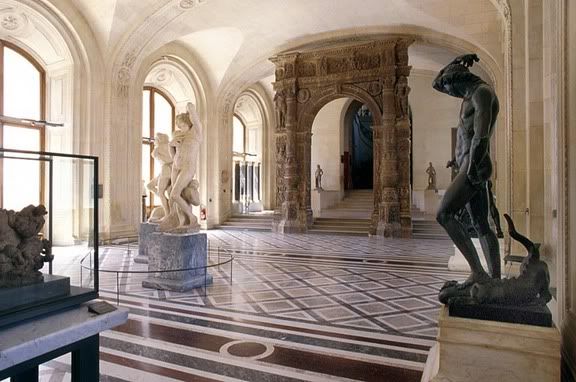 (
Read more...
Collapse
)
Saturday I went to the Louvre museum to follow a guided visit. I love their guided visits, the people leading them are brilliant.
Current Mood:

artistic

Current Music:

Canned Heat, Going up the country